Being able to successfully "think on your feet" is a critical skill for any business owner, manager, HR leader, sales professional, or other decision maker in a company. At Business Improvisations®, we know the key to developing these skills—while having fun and feeling motivated to learn—is through engaging training. Business Improv® is about developing key skills and tools that will help business leaders embrace uncertainty, think on their feet, and learn how to successfully react in the moment, at the top of their intelligence.
For years, our
corporate training programs
, executive education programs, retreats, and customized experiential learning programs have helped business professionals improve their communication, leadership, management, and team building skills. During this time, we've compiled numerous publications, videos, podcasts, articles and more to really showcase what Business Improv is all about and how we can elevate team building for your organization.
There's a reason Forbes, Knowledge@Wharton, Time Magazine, the Wall Street Journal, Soar to Success, Financial Times, Chief Learning Officer Magazine, Big Think, and countless other industry-defining publications have called on Bob Kulhan's expertise for more than two decades. When it comes to leadership development, team building and lifting business performance, we speak the language their audiences want to read, and that language is "business success." Using his elite talent in improv, Bob has worked with organizations for more than 20 years to build successful teams that embrace change, improvise creative solutions, and thrive in a corporate environment.
Whether it's Bob or one of our
Core Faculty and Solutions Designers
working with HR leaders, sales executives, entrepreneurs or team leaders, we bring the passion for improvisation to each participant and organization, facilitating engagement, collaboration and inspiration so you can learn to embrace spontaneity.
To
learn more
about our team building programs, our real life success stories, and to see how we can help your organization through Business Improv®—without any embarrassing situations! —we invite you to read the following articles. You can also pop on over to our
videos and podcasts page
for a listen.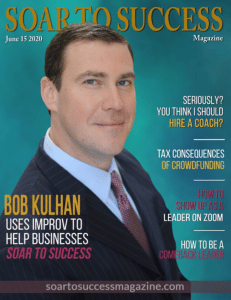 Have you ever been in a business meeting or situation and found yourself thinking about what you were going to say next, instead of actively listening? Do those conversations end up building trust between you and the others? These scenarios cease to be a problem when you are trained in Business Improvisation®.
Bob Kulhan has been helping business people understand and react more successfully for over 20 years, using his skills in improv.
He was a member of Chicago's famed Second City acting group and has performed in the iO and Annoyance Theaters, as well as the PIT in New York City.
In our interview, Bob explains his technique of, Yes, And, explained in his book, "Getting To YES And-The Art of Business Improv." The phrase, Yes, and, is the cornerstone of improvisation. For example, in a sales conversation, rather than being satisfied with a No answer, or an objection to your presentation, simply respond with, Yes, And — what can we do to make our product work for you? Always keep the client engaged and let them tell you what they need and explain how you can fill that need.
The Online Journal of New Horizons in Education

Improvisation is synonymous with unplanned performances. Paradoxically, successfully engaging in improvisation involves structured underlying techniques. These structured elements have transferable applications to leadership and organizational development. The purpose of this research project is to explore students' experiences engaging in improvisation during a weeklong graduate course. We employed a basic interpretive qualitative approach to examine learners' perceptions around the applications of improvisation tenets and strategies to their professional lives. Results from this study highlighted that the use of the improvisational tenet yes, and motivated participants moving beyond a personal agenda to promote collaboration. Improvisation also facilitated the assessment and mindful adjustment of energy to inspire authentic engagement with others to build trust. Additionally, learners embraced spontaneity to hone their ability to adapt and react in time to change.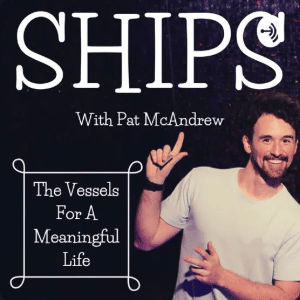 We are excited to share Bob Kulhan's most recent interview with Pat McAndrew on the SHIPS podcast. It's a great episode about how improvisational theater techniques can help us better communicate and interact in the corporate world. You don't want to miss it! You can listen to the episode on Apple Podcasts, Spotify, Anchor, and many other podcast platforms. Enjoy!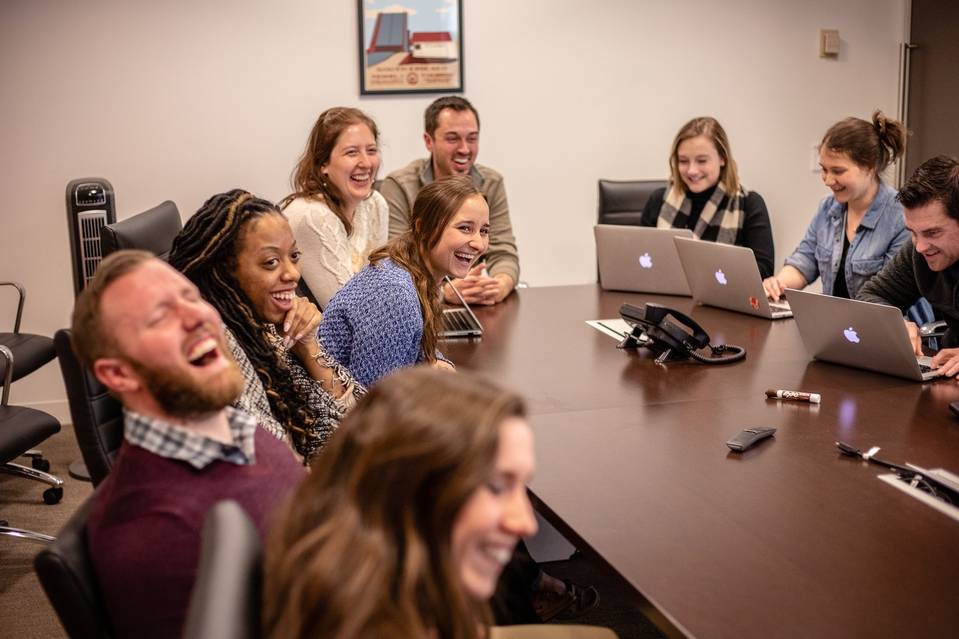 Thinking on your feet. Keeping an audience engaged. Forging employees into a team.
They're all crucial skills for entrepreneurs. And that is why many founders are turning to improv comedy for help running their business. They believe that the core ideas of improv comedy—riffing spontaneously on novel situations and interactions with other performers—can help spark creativity, collaboration and trust among startup employees.

Collaboration, as many MBA students quickly learn, is key in a business environment. For four Duke University Fuqua School of Business students, that collaborative effort fostered an important victory on the road to a potentially fruitful career.
Paige Swofford, Liz Arnason and Mike DeNoia, Masters of Environmental Management (MEM) and MBA dual majors, alongside Daytime MBA student Yochai Ben Haim—all first-years at Fuqua—nabbed first place at last month's Challenges in Energy Case Competition held at the UCLA Anderson School of Management. Teamwork was essential to their victory, but their collaborative bond had formed long before the group entered the competition.
Association for Talent Development

Achieve better business results by communicating differently.
With the increasing discussion around innovation, and the need to do business differently, many organizations are turning their usual way of operating on its head.
Many are working to instill a culture where risks are welcome, making small changes in process that can lead to new solutions, and asking questions to spur new thinking. One method that can support these changes and which is gaining ground is that of using improvisation.
Bob Kulhan is—along with Chuck Crisafulli—author of the soon-to-be-released Getting to "Yes and": The Art of Business Improv. Kulhan is president, CEO, and founder of Business Improv, which creates executive education programs for top business schools in the United States and abroad, as well as leadership development and experiential learning programs for corporations, including many Fortune 500 companies. Among the organizations that have pursued Business Improv are Google, the Ford Motor Company, the U.S. Naval Academy, the United Nations, and Hilton Hotels.