Virtual is Now.
Virtual is the Future.
Where, when and how you are working today is likely very different from what it was like in 2019, and your approach to work today will define how you will be working in the future. Teaming, collaborations, and entire industries have shifted to virtual & hybrid offices. So why would training be any different? Business Improvisations® is extremely proud that we were the first in our industry to develop results-driven virtual solutions to challenges around virtual teams, leaders, and cultures since 2017.
Whether your team has always been virtual, or your team is new to this arena, Business Improv has a bounty of experiential virtual training options.
Virtual Teams Do Thrive –
Let US Show You How
Beginning in 2010, Business Improv actively partnered with our blue-chip, legacy clients to pilot and prototype our virtual solutions. As a result, we've been regularly delivering virtual programming as one of our core offerings since 2017 and hybrid solutions since 2018. Through our immense work in the virtual space, we have learned that many high-functioning in-person teams struggle when learning to communicate and collaborate with each other in a virtual or hybrid setting. With the absence of face-to-face engagements, communication is challenged. Casual, tactical exchanges, serendipitous meetups and social learning are less frequent, and ad hoc conversations are now scheduled. As a result, behaviors change to fit the new work environment.
However, team dynamics and team potential do not need to suffer. The core of what we do in Business Improvisations is change behaviors and change cultures.
We teach teams how to own virtual and hybrid environments to thrive in this continually shifting landscape through agility. We lead world-class sessions virtually to solidify the learnings and serve as a real-time opportunity for growth—both as individuals and as a team. We collaborate with our clients to make sure the skill set we are developing is transferrable and sustainable, for long term development.
Your ROI is our priority.
A leader must constantly make sense of the shifting pieces of a shifting puzzle—exactly what an improviser does—and an improvisational leader knows how to blend EQ and IQ.
– Bob Kulhan, Founder of Business Improvisations®
Solutions Designed for All Virtual & Hybrid Teams
Whether your team has always been virtual, or your team is looking at a virtual-first future, Business Improv has a bounty of virtual training options. The curriculum for our sessions is completely customizable, and we craft our content to a virtual classroom learning experience around your needs, to make sure that we are lining up your goals and hitting the ROI bullseye from 1,000 yards out.
Here are a few samples of virtual and hybrid sessions we've created.
Explore Virtual Offerings
Virtual Keynotes & Livestreams
Virtual Retreats,
Networking Events
Virtual Capstone Events & Interactive Improv Shows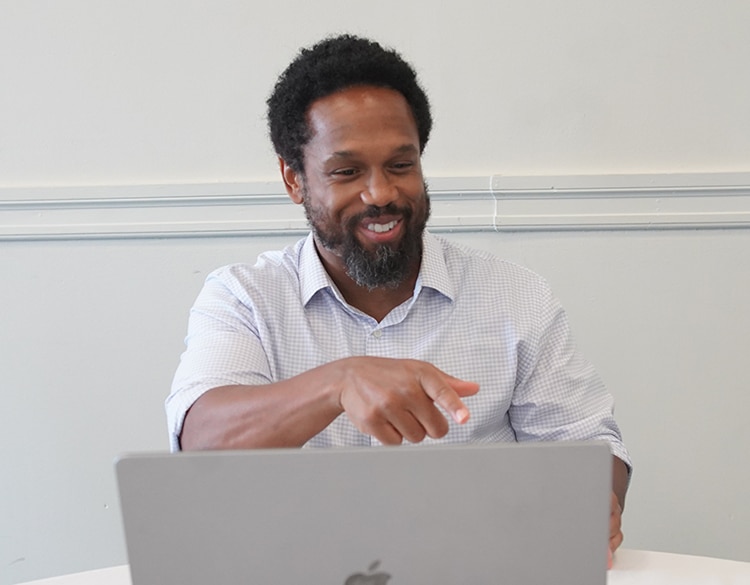 In a virtual classroom, everyone is virtual and on their own machine. Just like our on-site offerings, we work with you to guarantee that each individual classroom has a participant-to- instructor-ratio that supports your goals. From setup to delivery, our approach is full service. Our job is to manage the entire learning experience (read more about that in the next section); your job is to be fully engaged in the immersive, fun, dynamic, experiential learning.

In this model, the group of learners is together, in-person, and our BI instructor is the only member of the experience that is beaming in virtually. Just like our Virtual Classroom, we have been delivering Townhall sessions since 2017. So, from arranging the classroom to coaching you through tech challenges to assigning key roles for the program, we know exactly how to set you up for success 100% of the way. We've delivered Townhall sessions to groups in the US, Europe and APAC and have discovered that clients are thrilled to "bring us in" without the travel expenses!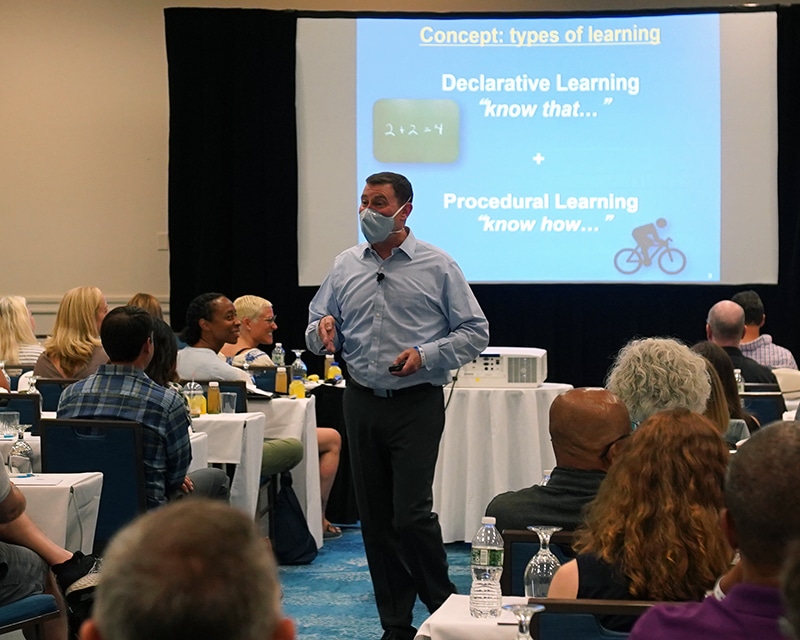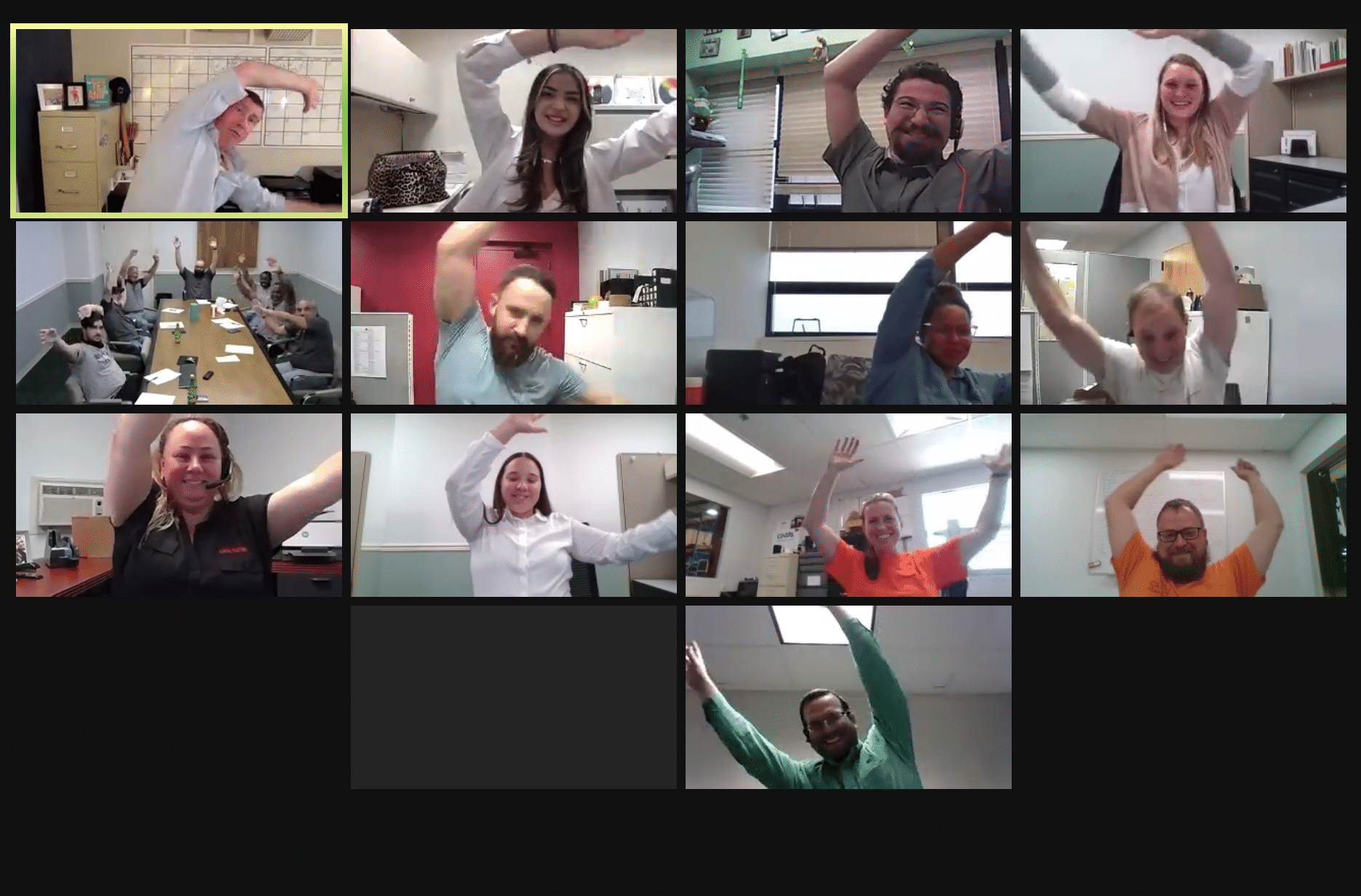 You probably puzzled out what this one is – some participants are fully virtual, and others are together, in-person, in one location, and boom – Hybrid Model! Since our first hybrid session back in 2018, we've been showing leaders how to create cohesion, chemistry, and trust in multi-location teams. We have found tremendous success with this model, especially as employees head back into physical offices and work on teams that rotate in and out of the office a few times a week.
We've developed custom experiences and exercises that cater to the make-up of your group and allow for the two groups to intermingle, bust silos, and build trust and chemistry as One Team. Give us a call. Let's walk through the process together!

Virtual Keynotes & Livestreams
From custom virtual keynotes and livestreams to supporting clients looking for a more tailored off-the-shelf style of delivery, we serve much larger audiences. Like our Virtual Classrooms and Townhalls (and all of our in-person intensives), our virtual keynotes are immersive, high-energy, experiential, fun, Ride-the-Bike deliveries, wherein attendees are entertained while they have the opportunity to practice Business Improv's results-driven techniques, in real time. These sessions are typically 30-90 minutes in length (however, we've led 4-hour virtual keynotes before), and we can (and do) accommodate audiences of 1,000+ participants (with optional breakout rooms).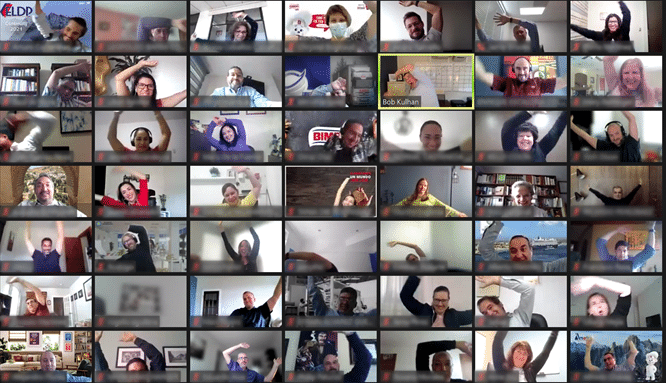 Whether we're delivering a virtual Build Your Brand for a Hybrid Future keynote to a Women's Leadership Conference or delivering a Future of Teaming: Agile Cultures virtual leadership livestream (plus networking event) for global executives of a multi-national global brand, we always design our keynotes to meet your needs and goals and maximize the impact (your ROI). Even if our instructor is the only active video feed, our livestreams are highly engaging, fun, funny, experiential, and immediately applicable!

Virtual Retreats, Networking Events
Since March 2020, we've developed, designed, and hosted premier virtual-only events. Whether it is a virtual corporate offsite, a hybrid party or a remote 3-day conference, Business Improv delivers high-energy, dynamic and provocative events that are seamless and as entertaining as they are immediately applicable to real-world outcomes.
Business Improv partners with you as we design and host energizing, incredibly interactive events that allow participants to engage with others, build relationships and expand networks all while having fun mixing-&-mingling. It is a perfect marriage of our workshops and our shows!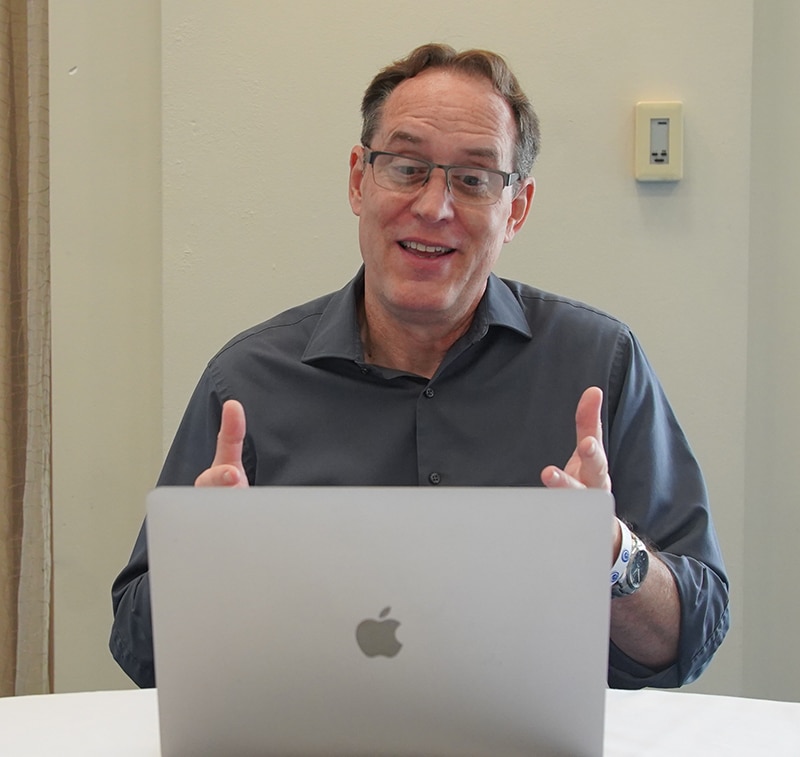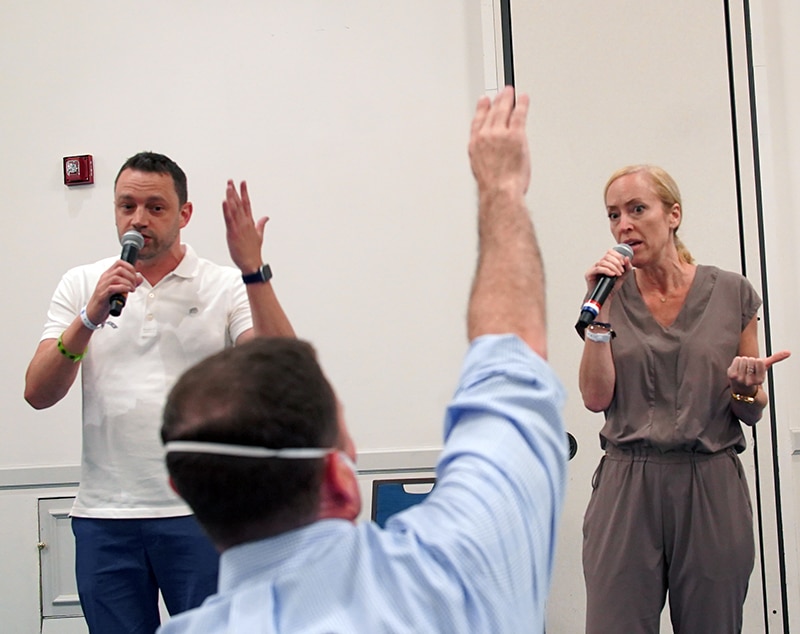 Virtual Capstone Events & Interactive Improv Shows
All Business Improv instructors are master improv comedians – elite improv artists who have performed improvisational comedy professionally for many years at the highest level on the best stages, all around the world.
Often performed in conjunction with a workshop, keynote, or networking event, the comedy show is a funny and fast paced event that is highly interactive as all scenes, games, stories, and songs are made up on the spot and based on suggestions given by you – the audience!
We can perform alongside you (audience volunteers) or in front of you (professional Business Improv talent only). No matter what, this awesome event will be a great memory and fantastic capstone event. Contact us to learn more about our wide array of experiential, fun and highly transferable virtual entertainment options.
Start the Conversation Today
The future of your organization is based on the training you do today. This is an awesome responsibility that we fully embrace. Our mission is to make you look like a genius for bringing us in.
No matter how long your team has been virtual, our comprehensive library of digital offerings is suitable for any individual, team, or organization. And like our in-person offerings, we customize the experience completely around you, your unique team, and your specific goals.