Business Improv: Linking Improv to Business Through Behavioral Sciences and Real-World Applications
The term "business improv" gets thrown around a lot. If you ask 10 different people what it means, chances are, you'll likely get a handful of different interpretations. The reality is that Business Improv started with us, right here back in 2000.
The Business Improv® methodology is defined by three core competencies: "Reacting, Adapting & Communicating". 
Reacting – being focused and present, in the moment
Adapting – reacting within parameters or to achieve a specific objective
Communicating – we never operate in a vacuum
With this definition, a pivotal question surfaces: "Who DOESN'T need to strengthen their skills relating to reacting, adapting and communicating?"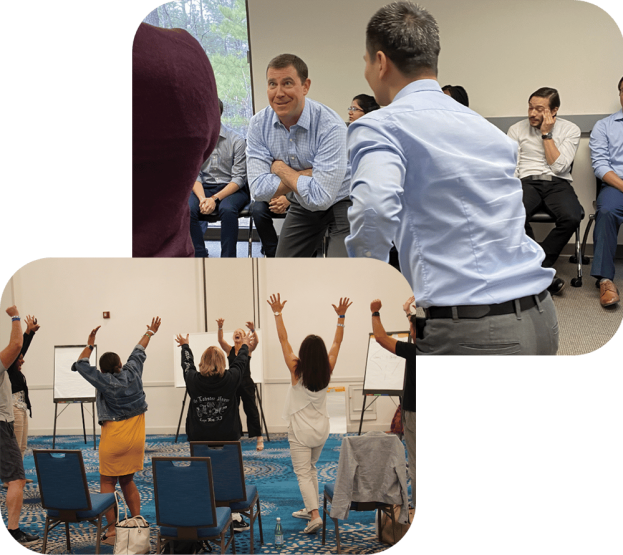 We combine the best improv talent in the world (bar none) with global thought leaders from America's best business schools and the world's top industries to bring the most well-rounded, impactful design possible.
We are the one and only Business Improv.
"Normally after a strategic planning session they have 7 or 8 ideas and 1 might be workable and the question is, "What have we accomplished?" After working with Business Improvisations (for only a half-day!), we had 52 recommendations onsite, and 12 were approved on the spot!"

Henry Conde - Captain SC, USN
"Just about every executive education program I know of has tried to find some way to address creativity and all have been unsuccessful. That is, until the just-completed Ford program! I'm ready to be your agent."

Marian Moore - Academic Director,
Duke Corporate Education
"Thanks very much for the Livestream event - it was fun and informative! Your passion and energy were so evident in the session. The techniques you shared will help us build more empathy, inclusivity, and collaboration in our future interactions."

Ashok Shenoy - Co-President,
Ascend Leadership New York Metro Chapter
"I've had the pleasure to be involved with Business Improv sessions in three different aspects. One has been pre-COVID, one during COVID, and one post-COVID, or kind of post-COVID. And the three sessions I've had, I've had the virtual and I've also had the in-person, and all three have been the most thrilling and eye-opening experiences I've had thus far in my business career."
Melissa Granados - COO,
Los Angeles Immigration Attorneys
"Please get yourself involved in this program! You will come away with the right attitude and right energy for hosting virtual meetings, listening, responding, and communicating more effectively."

Paul Cunningham - Operations Supervisor, ZID ARTCC,
FAA Managers Association
"Thanks again for a fantastic day. You received rave reviews from the team… the team loved the breadth of exercises that we got! The team is really coming up to speed and I've been impressed at how they are incorporating the learnings from our first session."

Duke Chang - Vice President,
Fidelity Investments
"Bob Kulhan is perceptive, intuitive, and highly adaptive. For our corporate partner symposium, Bob implemented an interactive learning workshop that gave our partners a fun way to get to know each other, learn and practice collaborative communication skills, and breakdown some of the simple barriers to "yes, and" inclusive behavior. Relevant and clever!"

Shelley Taniguchi - Director, Global Partnerships
National Academy of Television Arts & Sciences
"Business Improv combines evidence-based approaches, fun, and an experiential learning environment to break your teams into a new way of thinking about collaboration, innovation and energy. It is impossible to miss their ability to change the energy in a room and teach your team to do the same. I highly recommend them."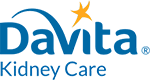 Amy Young - Vice President,
DaVita Kidney Care
Business Improv and the Hybrid Future
Our Approach – A Master Think Tank
Options that Match Your Specific Needs
All Programs Customizable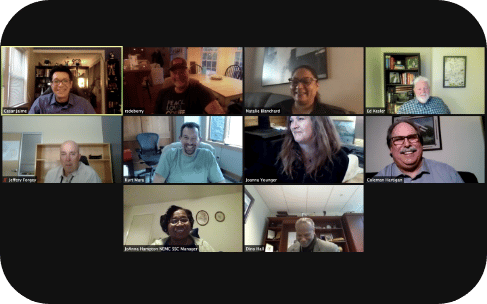 There has never been a better time to get better at being agile, adaptable, and thinking on your feet! Let us help you help yourself. Whether you're a fully remote team defining your virtual culture, a hybrid team focusing on respecting how, when and where people work, or an in-person team looking to reset and supercharge your chemistry, we have a transformational experience that is acutely dialed in to your team's success.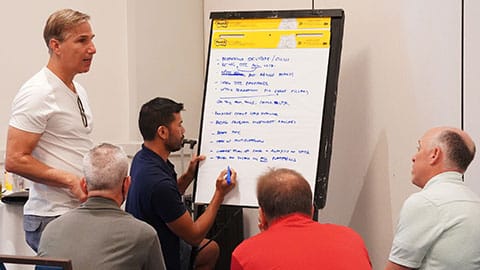 Our unique approach is a proprietary blend of scientifically grounded lectures and case studies, with high-energy, interactive, experiential learning exercises led by the world's top improvisation professionals. Who said you can't have fun while upskilling?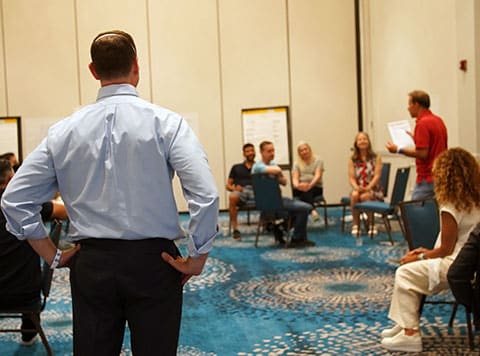 In a world of uncertainty, it is important for leaders to be agile, adaptable and communicative. Successful leaders require skills that embrace change as an opportunity, looking for potential instead of viewing it with fear or as a threat. Creative problem solving is a core skill needed for leading change.
Our Business Improvisations workshops and services include in-person training, online courses, virtual learning, corporate consulting, executive coaching, train-the-trainer, corporate retreats, and custom solutions.
Our expert faculty are research hounds. We partner with you to truly understand where your company is and what it needs right now and in the future. Once we know that, we help you build skills that not only work well with your current situation but also future goals as they change and grow.
No matter what level or area you may need development in—from creativity and collaboration to leadership and change management to storytelling and public speaking—we design solutions specifically towards your needs. Contact us about our corporate communication courses today!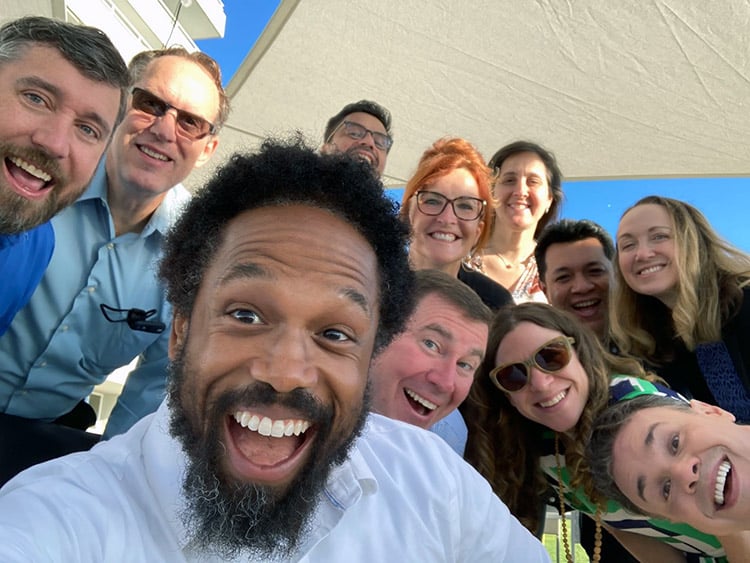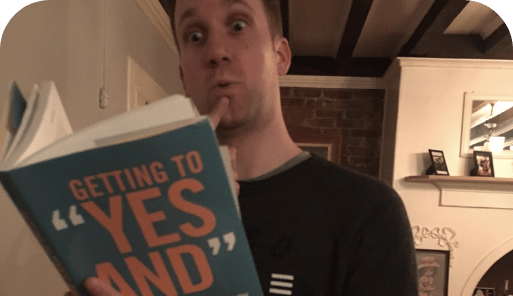 Library Of Offerings
After 20+ years of designing top-ranked, original exercises and courses, we have an extensive Library of Offerings – an excellent resource for anyone interested in learning a bit more about the types of Business Improv's corporate communications training.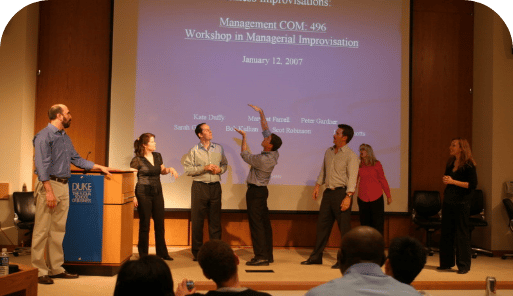 Customizable Programs
We've been creating original exercises, business simulations, and customized programs for more than 2 decades. Give us your challenges, and we'll design a transformational solution for you that will knock your socks off!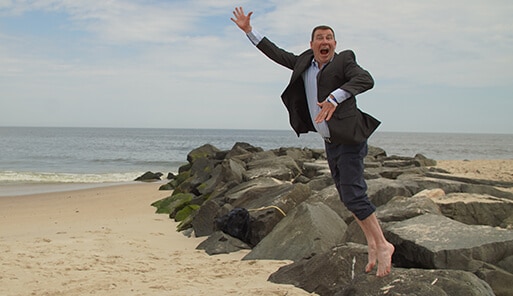 Meet Bob
Meet Bob Kulhan, Business Improv Founder and CEO, Senior Faculty, Best Selling Author, Elite Improv Comedian and Overall Decent Human Being.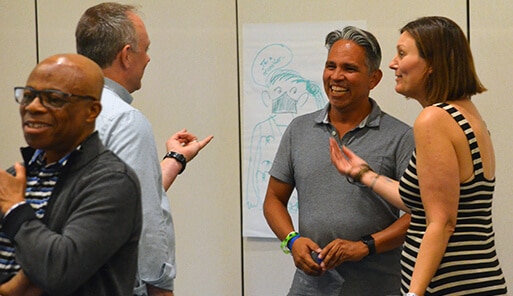 The Business Improv Story
How did an elite improv comedian's rough idea in 1999 turn into a world-class organization – global leaders in developing experiential In-Person, Virtual Classroom (synchronous), Online (asynchronous), and Blended (combination) learning programs for businesses and businesspeople? This is our story.